Sole Bright
Does not ship outside of the U.S. or to APO/FPO/DPO addresses. 
Bring your yellowed soles/midsoles back to life with this amazing product! Completely reverses oxidation that usually occurs on icy/rubber soles. Safe for all soles including Glow in the Dark and will not hinder glow properties. 
DIRECTIONS:
Apply a

light/medium coat

 of Sole Bright to Oxidized parts of shoes 

to be treated.

 

Make sure to apply very lightly around edges to avoid the product from running onto unwanted areas. Avoid contact with non-rubber materials as it may burn them.

Cover in clear wrap to prevent the product from evaporating.

Leave in sun for a 1-6 hours (1 hr for midsoles, 4-6 hours for clear/icy soles). Check back periodically. 
Multiple sessions are necessary for clear/icy soles and older shoes. 8 sessions were used to get the results in the 2nd photo.
TIPS:
Try to place shoe as level as possible to avoid run-off onto unwanted areas. 

Multiple sessions will be necessary for extremely yellowed soles/material.

Sole separation may occur in extremely hot weather. We suggest stuffing the shoe with a sandwich bag filled with ice to avoid separation.

Don't be fooled by other products that say you can get a sole clear in one session that is heavily yellowed. 

Not recommended for use on the "netting" of Jordan 5's. This may cause additional yellowing on this portion of the shoe. 
Caution - Use with gloves! 
Create your own Sole Dye:
Mix 50% Sole Bright with 50% Angelus Leather Dye or Suede Dye.

Make your own custom colors!

Apply mixture to soles.

Leave to dry for a few hours.

Wipe off and repeat process 2-3 times.

Leave for 24 hours and then clean off with alcohol or warm water & soap to remove excess dye.
All Sole Bright orders placed after 8/27/2019 will receive our new packaging pictured here.
Customer Reviews
Write a Review
Ask a Question
Filter Reviews:
soles
pair
results
Works
Jordan
Angelus
Sessions
item
stuff
shoe
01/25/2023
William F.

United States
AMAZING PRODUCT!!!
My shoe soles were completely yellowed and Sole Bright made a difference in just 1 treatment. After the 2nd treatment, the soles were 100% white again as well as the stiching. I'd absolutely recommend this product to anyone who doesnt want to throw out their shoes simply over sole oxidation.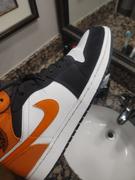 10/06/2022
Justin A.

United States
10/02/2022
Anonymous

United States
09/07/2022
Anonymous

United States
Always reliable
Have been using sole bright for awhile! Reliable buddy to help with yellow soles!
09/04/2022
Anonymous

United States
Sole bright review
I loved the product my soles came out clean white
08/21/2022
Anonymous

United States
Great product
Works great I'm happy with it
08/14/2022
Anonymous

United States
Great?
Product was great ! BUT, I had to do like 4 sessions in one day for 2 hours each in the sun light and the right side was getting clearer than the left pair. The left pair took a while to look clear. THIS IS BETTER THAN HAVING IT YELLOW, anyways I still have more left soooo
09/14/2022
Angelus Direct
Some shoes can take many sessions. That product definitely requires patience!