When a small handful of sneaker companies started dropping "Made in the USA" kicks on us a few years back, some people didn't like the price tag, some people thought it was, but here at Angelus Direct we we're like: finally!
New Balance came correct with this Made in the USA line up, made in their five New England factories. And that got us thinking about our own history of making badass products in the United States.
(Source: Crispculture)
The majority of our paint goes out to custom sneaker artists and sneaker revitalizers, which hasn't been going on for more than 10 years. But did you know that Angelus Brands have been around before that?
The Angelos family, not a spelling error they have a different spelt last name, has been making shoe polish right here in Los Angeles County for over a hundred years as Angelus Brand Shoe Polish Co.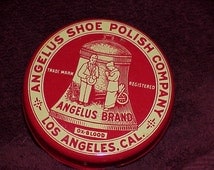 This is the Triple OG shoe polish.
The Angelus Brand has branched into a few different avenues, like here at Angelus Direct, were we deal with all the fun stuff that goes into sneaker customization because we're sneakerheads and artists ourselves. But like the original Angelus Shoe Polish, the acrylic leather paint that you're using on your Jordan 5's was made right in the USA. 
We make highest quality acrylic leather paints and custom sneaker accessories handcrafted in the United States at an affordable price. And we come from a long line of people creating quality products in the US that anyone can buy. In 2015, that's a crazy concept right? But that's the idea that Angelus Brand was built on and this is Angelus Direct practices everyday.
There's a few reasons why Angelus is made in America. First, and most importantly is jobs. We work out of a factory/warehouse in Santa Fe Springs, and employ a handful of amazing people. Sure, we could have our products outsourced to China and rebranded to save a couple dollars. That's not what we're about though. Angelus Brand products have been made not only in the US, but in Los Angeles since 1907. We're older than Los Angeles Lakers!
We love being a Los Angeles based company and we're honored to create jobs in the US. Think about this: if you're from Southern California, when you buy paints, accessories, dye, or anything else, you're directly impacting the US economy in a positive way. The Galaxy Kit you ordered was mixed in our plant and packaged by one of the order-packers in our warehouse.
We're not forgetting about all of our customers out there that aren't from the USA. Trust, while Angelus Direct has created some great jobs right here at home, you're helping support a family-owned small business in a big-business economy. Plenty of other paints out there are manufactured in sweatshops and plant without safety laws or fair pay, so at least you're buying from a company that practices ethical business practices.
The holidays are coming up, so everyone's getting into the spirit. Of course, we want to be your source for gifts for all the sneakerheads, sneaker customizers, and leather artists in your life. But we also wanted to take a moment to thank you for not only supporting Angelus Direct, but for buying American, and creating sustainable jobs in the US.