When you think galaxy, are you thinking 'the most hyped sneaker release in the last 10 years' or the thing our planet is a part of? If you're thinking of the former, than you're probably a sneaker aficionado. The 'Galaxy' color way, which is a pretty accurate representation of our star system, has become a staple for sneaker motifs. The history behind this color way might be even more fascinating.
During 2012's All-Star Weekend, Nike released a 'Galaxy' collection that included a Dunk, Kobe, LeBron and KD's signature sneakers, some other forgettable models, and one of the rarest Foamposites to ever hit the market. While the rest of the sneakers released with the pack were more or less on-brand with the 'space' theme, with variations ranging from astronaut-inspired to a 'literal' galaxy (think Milky Way), the Foam One has gone down in history. If you've never heard of the Nike Air Foamposite One "Galaxy" release, it's the stuff of sneaker legend.
The takeaway behind the Foamposite "Galaxy," is supply-and-demand at its finest. As with most collections, Nike produces a specific number of sneakers that almost always ensures a complete and rapid sell-out. While the amount produced is the result of marketing research and sales history, the actual number is usually a mystery unless you're on the supply end of things. Essentially, since it's initial debut in 1997 the Nike Air Foamposite One, or Foam, had been a guaranteed win for the footwear giant with every release.
Going back to February 2012, the hype around the All-Star weekend wasn't so much the collection itself, but the Foam. Notably, this was the first Foam with a printed-graphic uppe, but it was a Foam—that was the selling point. In the weeks coming up to the release, Nike hinted on social media (not quite the marketing tool it is now) that the Foamposite Galaxy would be at a number of specific locations including Orlando, home to that year's All-Star Game.
When it came to the drop day, availability wasn't the case. An even more limited amount than previously expected was made available, so an already hyped sneaker became a true rarity. When expected release locations turned up empty, chaos ensued.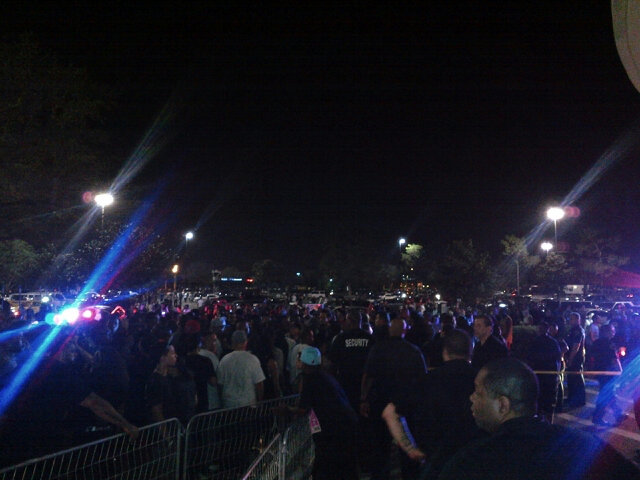 In Florida, for example, there was an actual riot at the Florida Mall. With that, the Galaxy colorway went down in history, hence supply-and-demand at its finest. This was taken outside the mall. Law enforcement was called in to calm the situation down. Mind you, this crowd was there for a sneaker.
So if you weren't able to pick a pair up that weekend (most eager buyers didn't either), and don't want to spend an easy grand on a pair off of eBay, make your own. Our Galaxy Kit has everything you need for that cosmic paint job.