Never one to slow down, Angelus-sponsored custom sneaker artist and all around talented dude Jake Danklefs is doing a collaboration with Texas-based Whataburger. The cool thing here is that Jake did three different sneakers (for 1st, 2nd, and 3rd), that include a nice homage to his OG Whataburger Dunks.
The #WhataThoseContest is all about customs, and if you've been following Jake over the years, you know he's used the Whataburger motif on his customs before, so it's a natural pairing. Jake's Dunk Highs go to first, and they're are reminiscent of the Whataburger custom he did back in 2012, a Dunk Low that uses the famous orange and white color way that customers know.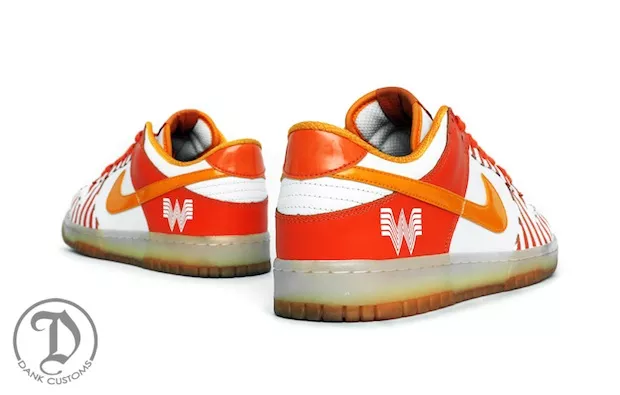 Basically, diners can customize their burger, snap a pic, and use the hastag to enter for the chance to win one of three custom sneakers. So, if you live in of the states lucky enough to have Whataburger (and coming from the home of In N' Out, we'll admit they're pretty good burgers), why not enter to win a one-of-one piece of wearable art?
In the meanwhile, follow Jake at @jwdanklefs for inspiration. He's one of the most sought after customizers out there, so there's always something cool to see on his page.